Are You A "Sonoran Toad Licker?"
First, I NEVER thought I'd have to ask that question – but I do! On Election Day 2022, this is another sobering reminder of just how stupid people can be.
The Guardian reported yesterday on a new and dangerous phenomenon:
"The US National Park Service is warning people to stop licking one of the largest toads in America, due to a toxin it secretes from its glands that can create a hallucinogenic experience."
YES. We now must be warned not to lick "hallucinogenic toads."
They report that the Sonoran desert toad emits a quick, "weak low-pitched toot" – and something else as well.
For some reason, licking it has become a new trend, even though it can make someone sick if they touch it or lick it.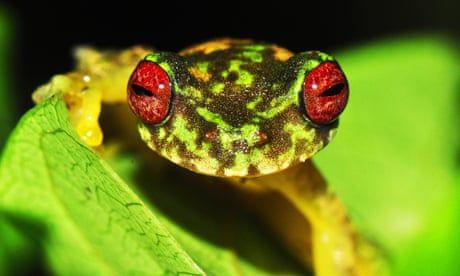 The Guardian's story goes on to note that even though it's dangerous, it's a new trend!
"Toad-licking, however, has become a way to get high, and has long been considered life-threatening. Not every toad can induce a high, and for those that can, the high they deliver varies from toad to toad."
That's right, people think they can get high by licking the back of a toad directly or by storing toxins secreted by the toad to use later!
Somebody call Darwin!
It's A "Toad Licking" High!
Apparently, hallucinations and euphoria are the known effects of this activity, but there are serious and dangerous side effects as well – licking a toad can cause anxiety, nausea or seizures and, in some cases, death!
"As we say with most things you come across in a national park, whether it be a banana slug, unfamiliar mushroom, or a large toad with glowing eyes in the dead of night, please refrain from licking."
It's hilarious head-scratching that the National Park Service would actually have to release such a request!
The "Sonoran Desert Toad" is also called a "Colorado River Toad" – and is about seven inches long, and its toxins are released from glands near its eyes and jaw.
If you want to know more, here is a link to the whole wild story!
https://www.theguardian.com/environment/2022/nov/07/toad-licking-us-national-park-hallucinogen
This reminds me that no matter how close we get to nature, there's a reason we still need to keep our distance:
Look at this magical image of playful Dolphins in the ocean – I've been lucky enough to see it up close – whales too!
Click here for my Pacific Ocean adventures:
Some of you may have seen this video I shared – of a happy family of Deer walking up the street ahead of me:
This happens a lot around our house – and yes, there are deer in Beverly Hills!
Click here for more:
And I also shared this video of my Elk encounter:
See how close I got and how many there were by clicking on my story here:
And if you want even more exotic wildlife, how about this?
A two hour flight south from Los Angeles will take you to the magical Baja California town of Cabo San Lucas:
Just a few of the incredible images I captured on a trip there…but nothing compared to coming across a pod of migrating Whales…they were very playful and visible – take a look:
You can see more of this magical trip – including the "Piranha Fish" we encountered – kind of – by clicking on my story here!
If you like these stories, PLEASE CLICK THE "LIKE" BUTTON SO I KNOW!
Also, why not sign up to receive emails whenever I post? It's easy to do, I do NOT collect any information about you at all, there are absolutely NO ads of any kind, just stories about movies, music, books, food, travel and pop culture…
You can sign up by clicking on my blog here and see the note on the right!
Let me know if you'd ever lick a Sonoran Desert Toad – and if you like the story, share on social media!
---
---
Categories: Books / Media, Exotic Travel, Funny Pictures, nature, Pop Culture, Travel, Travel Adventures, what the Friday